York Beach Maine
A True New England Classic




York Beach Maine is for families who want to play together.
Families who want to surf the waves or lounge in the sun on one of the best Maine beaches anywhere, who want to fly kites, watch fireworks explode over the Atlantic ocean, listen to live bands outdoors, smell freshly made saltwater taffy mingling with the scent of the sea, or dine on lobster together.


Note: With written permission from the Governor of Maine, eating something delicious other than lobster in
York Maine restaurants
is occasionally permitted if you're under 16 - or have a shellfish allergy. :-)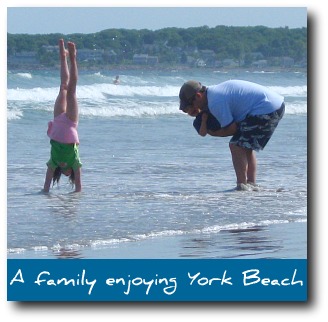 Maybe you want to catch the drips down an ice cream cone while sitting on park benches entranced by how the setting sun makes
Nubble lighthouse
glow, or you want to go whale watching in Maine together.
Maybe you'd like to spend the day at a Maine zoo and amusement park? It's just down the street from Short Sands beach.
There are endless tourist attractions here, but it doesn't matter how much you do when you're here - your York Maine vacations can be simply for reconnecting with the ones you love against a backdrop of ocean and sky.
Of course, York Beach Maine is also ideal for couples.
This is the kind of place where you fall in love, and stay in love. A picture-perfect romantic weekend getaway in Maine or Maine honeymoon spot. As filled with music and activity or as quiet as you want it to be.



Things to Do In York Beach Maine
This is very easy place to get around.
If you're staying at one of the many oceanfront hotels in York Beach, everything is within walking distance, which makes life much simpler when you're traveling with children.
Longs Sands beach is just the place for a long, romantic walk at sunset or a hike up to the lighthouse, and Short Sands beach has some great live entertainment at Inn On The Blues and Blue Sky (more on both beaches by clicking the "Beaches" tab up there on the left).
All summer long there are outdoor concerts at the gazebo near the big playground at Short Sands, overlooking the ocean. And you can walk right from the beach into kid heaven - the arcade!
If you love to be out on the water, the sea kayaking in York Beach Maine is always incredible, particularly in autumn.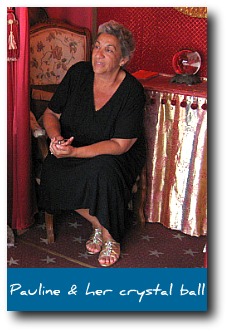 If you're on your honeymoon or just starting out as a couple, Pauline, who's been telling fortunes at York Beach for over 25 years, will be glad to fill you in on the details of your future together...
The day we took this picture she had read my Tarot cards and gazed seriously at me and said "You are not destined to be rich. Comfortable, but not rich". I laughed and told her I could live with that!
...then you can go get your nails done at a local spa before dining on fresh Maine seafood at a great oceanside restaurant - because later you'll be catching a show at one of America's best loved summer theaters, the Ogunquit Playhouse.
And if the timing's right, drive on up to Nubble light afterwards and watch the full moon rise behind the lighthouse!
York Beach Maine is also the ideal place to introduce your kids or yourself to raspberry lime rickeys, my favorite drink. It has a paler cousin, the lime rickey, but in my humble opinion raspberry is better.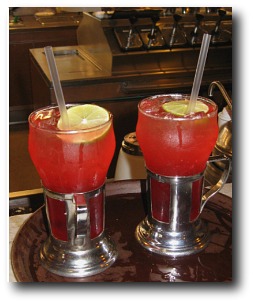 If lobster and corn on the cob are New England summer on a plate, then raspberry lime rickeys are summer in a glass. That drink is an old time New England classic, just like York Beach Maine itself.
There's not that many places you can still get one, either. We went to the Goldenrod for dinner last night and ordered a couple from the old-fashioned soda fountain with our meal. They looked so inviting that I took their picture! So now when you see them on a menu around here, you don't have to wonder. Just go ahead and treat yourself.
After dinner we watched them making those famous Goldenrod taffy kisses for awhile and went for a walk on the beach...



A Sea Glass Adventure in York Beach Maine
Recently I found a booklet in the house that was a school project when one of my children was in second grade. It's entitled:
TOP 10 PLACES TO VISIT IN YORK, MAINE!
AS VOTED BY YORK VILLAGE ELEMENTARY 2ND GRADERS
A Fun and Factual Guide To York, Maine By Kids, For Kids!
I was flipping through it to remind myself of what the kids in York Maine had voted as the "Top 10" in their town, and I got to the Beaches page (for the complete list from the kids, see the bottom of this page).
This is part of what the 7 year olds wrote about Short Sands beach:

"At Short Sands there is a playground. You can play basketball there. You can also find sea glass at Short Sands."

Coincidentally, I had just been asked to write an article on York Beach Maine for a web site based on the West Coast – Odyssey Sea Glass - and I had been on their site learning all about finding sea glass, assessing beaches for sea glass potential, the different grades of sea glass, etc.
So on a cloudy September morning, I took my new sea glass detection skills and went to Short Sands to see if those 2nd graders knew what they were talking about!
You know what those kids taught me? What kids ALWAYS teach us; that if you stop and take the time to really look, in life and on the beach there are tiny little treasures everywhere.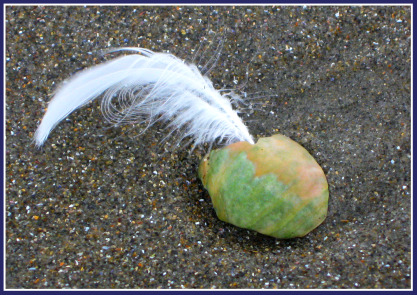 I not only found lovely pieces of sea glass, but this. There it sat, just like this, on the wet sand. Couldn't believe the color. A shell (or is it a shell?) no bigger than my thumbnail. It reminds me of a knight's helmet...what does it remind you of?
Whether it's something big (going whale watching) or small (hunting for sea glass), there's a lifetime of beautiful memories just waiting to be made in York Beach, Maine.


---


Top 10 Places to Visit in York Maine by York's 2nd Graders