Great Towns in Maine -- Day Trips & Vacation Getaways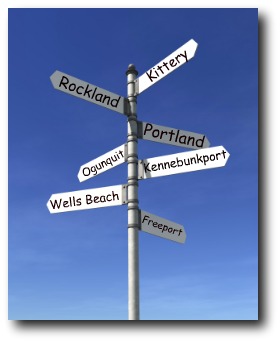 Great towns in Maine are pretty easy to find, fortunately. Drive up (or down) the coast, and you'll be rolling through one after another of the most picturesque places in America.
The southern and mid-coast regions have some of the most accessible Maine towns in the state. An easy drive down from Canada or up from Boston and New York, the villages and cities on this page are sure bets for Maine summer family vacations or exquisite New England romantic getaways.
If you're staying in the town of York while you're on vacation, you'll find that most of these places are quite close. Taking one day to explore any one of them is sure to be memorable.
What'll you find in the towns in Maine listed on this page?
Some of the very best Maine sand beaches for strolling and playing, the rocky coastline, Maine lighthouses, windjammer cruises, fairs and festivals, and some terrific Maine tourist attractions and outlet shopping.
There's photo ops galore!
And you'll find lobster. These Maine towns and cities -- along with many others -- are responsible for 90% of the country's entire lobster harvest, and we take that responsibility very seriously. And we usually take that responsibility with a little melted butter too...
Browse here for ideas for day trips from York Maine and for longer stays: Find local vacation rentals for each town, local hotels, activities, events and insider tips!


Return From Towns in Maine to Inside York Maine Vacations Home Page


Like Us On Facebook -- News, Tips & More!