Whale Watching in Maine
There are several fine nearby opportunities for whale watching in Maine while vacationing in York.
Maine whale watching will bring you a truly unique view of our coast -- seen not from shore but from miles out in the sparkling deep blue waters of the north Atlantic!

Whichever Maine whale watch cruise you choose (or any New England whale watching cruise), you will very likely be traveling to Jeffrey's Ledge.
The Ledge is a long, winding, relatively shallow area which stretches from the coast of Rockport, Massachusetts to just southeast of Cape Elizabeth, Maine (near Portland).
The shallowness of this ledge, surrounded by deeper ocean waters, creates an upwelling of water, making it a very productive, and important, marine habitat. The largest mammals in the world can be seen near there, approximately 20 miles off the New England coast.
Beginning in April, Maine whales begin to arrive to feed in our local waters. In October, they'll head south again toward warmer seas (and who can blame them??). The season is generally over by mid-October.
Until then, Maine's visitors and residents alike have the chance to spot the plentiful species of whales found in Maine's ocean waters as they leap above the surface, spout water, and care for their young.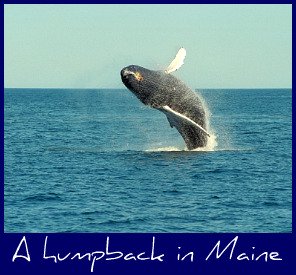 Common Maine whales include humpback whales, pilot whales, minke whales, and the huge finback, which can grow up to 80 feet long!
Sei whales, sperm whales, orcas and right whales are some of the state's more occasional visitors. Infrequently, a blue whale is sighted.
New England's Blue Ocean Society is a non-profit organization based in Portsmouth, New Hampshire, whose mission is to inspire passion, through education and research, to conserve the marine environment.

It just so happens that the Blue Ocean Society also has a great blog to see pictures of whales and reports of recent local whale sightings! Click here for the Blue Ocean Society blog

By the way, every single one of the towns listed below is beautiful, has fine restaurants and shops, and is well worth a visit - make it a day AND a night!






Whale Watching in Maine
Kittery, Maine
Approximately 8 miles from York
Seafari Charters
7 Island Avenue
Kittery, Maine 03904
1-207-439-5068
www.seafaricharters.com
Kennebunkport, ME
Approximately 20 miles from York
First Chance Whale Watch and Lobster Boat Tours
4 Western Ave, (Route 9)
Kennebunk, Maine 04043
1-207-967-5507
www.firstchancewhalewatch.com
Saco, ME
Approximately 34 miles from York
Indian River Whale Watch
5 Bay Avenue
Saco, ME 04072
1-207-251-3910 or 1-207-985-5993 info@indianwhalewatch.com
Portland, ME
Approximately 50 miles from York
Odyssey Whale Watch
170 Commercial Street
Portland, ME 04101
1-207-775-0727
www.odysseywhalewatch.com
Whale Watching in Maine is...sometimes in New Hampshire!
Rye, New Hampshire
Approximately 17 miles from York
Granite State Whale Watch, Inc.
PO Box 768
Rye, NH 03870
1-800-964-5545
1-603-964-5545
www.whales-rye.com
Atlantic Whale Watch
1870 Ocean Blvd
Rye, NH 03870
1-800-WHALE-NH (603) 964-5220
www.atlanticwhalewatch.com
Whale Watching in Maine is...sometimes in Massachusetts!
Newburyport, Massachusetts
Approximately 30 miles from York
Newburyport Whale Watch
54 Merrimac Street
Newburyport, MA 01950
1-800-848-1111 (outside New England call 1-978-499-0832)
www.newburyportwhalewatch.com




Return from Whale Watching in Maine to Inside York Maine Vacations Home Page