Museums in Maine -- Kittery to Portland


Museums in Maine have incredibly diverse collections for adults and children visiting here.
There's the Portland Maine Museum of Art and other fine art museums, the Maine Lighthouse Museum with its stunning view of Penobscot Bay, there's antique auto museums, and my own personal favorites -- the odd and quirky museums that dot the state.
Really, how can I possibly resist a Bigfoot museum?
Some of these museums in Maine are very well-known, at least to Maine residents.
When my children were younger, for instance, I felt as though I practically lived at the Children's Museum of Maine in Portland!
And some of these museums in Maine are small, though no less interesting for their size. Like Faberge eggs of museums -- tiny, but with exquisite little treasures inside.
Depending on your bent of mind and your interests, you may be quite surprised -- and often absolutely delighted -- by what you find inside museums in Maine.
This is not an exhaustive list by any means, and I'm always looking to add more, so if you've been to some wonderful museums in Maine that you don't find here, let me know by using the "Contact Me" button at the bottom left of this site.
So without further ado, here's your list of places to go and things to do when poking around museums in Maine...



Museums in Maine -- Kittery to Portland
Kittery Naval & Historical Museum, 200 Rogers Road, Kittery, ME
www.kitterymuseum.com
Located in Maine's southernmost town, the Kittery Naval & Historical Museum has one of my favorite things of any of the museums in Maine -- the original 1804 lighthouse lens to Boon Island lighthouse, just off York's coast.
In addition, you'll find local history artifacts, ship models, shipyard and submarine memorabilia, guns and tools, uniforms and diving gear, and scrimshaw and lighthouse artifacts.


The Raitt Homestead Farm Museum, 2077 State Road, Eliot, ME
http://www.raittfarmmuseum.org/index.htm

This museum seeks to educate future generations with displays and demonstrations of antique farm equipment for the purpose of keeping valuable farming heritage alive.
The preservation and restoration of the Farm Museums 33 acre property and buildings is an ongoing project throughout the year. The public can access this museum through the events held at the farm each summer and fall. These include the Annual Antique Tractor & Engine Show, the Mainely Grillin' & Chillin' BBQ Festival and the Woodsmen Competition , Truck & Tractor Pull and the Halloween Harvest (check our Event Calendar.


The Museums of Old York, 3 Lindsay Road, York Village, ME
www.oldyork.org

Nine historic museum buildings, a contemporary art gallery and gardens. Tour the buildings, and customize your visit by adding in one or more living history experiences.
At Old York you will experience over 300 years of New England heritage while listening to tales of sea captains and their families, jailers, prisoners and others. You'll also see some of the most beautiful decorative objects and antiques preserved in America including the Bulman Bedhangings, the only complete set of 18th century American crewelwork bed curtains known to exist.


Ogunquit Museum of American Art, 543 Shore Road, Ogunquit ME
http://www.ogunquitmuseum.org/

Open May through October, the Ogunquit Museum of American Art by collects, exhibits, preserves, and interprets American art from the nineteenth century to the present. It remains one of the most renowned art museums in Maine.
Amidst a beautiful oceanfront setting, the museum houses a 1,600 piece permanent collection, special events and shows, and an annual art auction.


Ogunquit Heritage Museum, 86 Obeds Lane, Ogunquit, ME
http://www.ogunquitheritagemuseum.org/index.html

Open seasonally, this smaller of the museums in Maine is located in the Captain James Winn House, a ca. 1780 Maine cape. The house was on the National Register of Historic Places as an example of Maine architecture.
Exhibits at the museum include Maritime history including coastal trade and fishing in early Ogunquit; our front room is devoted to the artist colony, schools and artists paintings; a "Do You Remember" room is devoted to the more recent history, early hotels and inns as well as Ogunquit Theatre and town photos; and finally, a room with information on the architecture of Ogunquit, including the Winn House.


The Meetinghouse Museum, Route 1, Wells, ME
http://www.historicalsocietyofwellsandogunquit.org/home.html
The Meetinghouse Museum was completely renovated and re-organized in 2005 . The master plan parallels the chapters of the history of Wells and Ogunquit -- My Name Is Wells - I Am The Town. The Museum encompasses exhibits in all of the hallways, as well as the People and Places, Work-A-Day-World, Service and Sacrifice, and Following the Sea Lanes Gallery; and, of course, the Historic Meetinghouse itself.


Wells Auto Museum, 1181 Post Road (Route 1), Wells, ME
http://wellsautomuseum.com/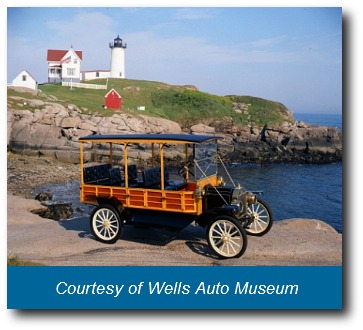 The Wells Auto Museum is a collection of over 80 antique and classic cars. This is one of the largest collections of antique autos of all the museums in Maine.
The collection spans over a century of automotive history and includes many rare and unique pieces. Along with the car collection, you will also find several vintage motorcycles and a fair amount of automotive memorabilia. For the kids, there are vintage games, nickelodeons, and music boxes spread throughout the museum, all in working order. Open seasonally.


Seashore Trolley Museum, 195 Log Cabin Road, Kennebunkport, ME
http://www.trolleymuseum.org/

Unique among museums in Maine, the Seashore Trolley Museum was founded in 1939 with one open trolley car, No. 31 from the Biddeford & Saco Railroad Company. Over the years thousands of members have followed the founding fathers by helping the Museum grow to be the premier electric railway museum in the world.Today, the collection contains over 250 transit vehicles, most of them trolleys, from all over the United States, Canada, and many other countries. This is the oldest and largest electric railway museum in the world.



The Brick Store Museum, Route 1, Kennebunk, ME
http://www.brickstoremuseum.org/




Museums in Maine -- Portland Maine Museum of Art and Other Portland Museums
Portland Maine Museum of Art, 7 Congress Square, Portland, MEhttp://www.portlandmuseum.org/
The largest and oldest art museum in the state of Maine, the Portland Maine Museum of Art serves as a vital cultural resource for all who visit. The Museum's collection of more than 17,000 objects is housed in three historic and remarkable buildings showcasing three centuries of art and architecture.
Don't forget to take in a film at the Movies at the Museum program. Every weekend alternative, foreign, or classic films are showcased.
All of these extraordinary exhibitions are explored in greater detail through art classes, music, lectures, and much more at the Portland Maine Museum of Art!


Portland Children's Museum, 142 Free Street, Portland, ME
http://www.kitetails.org/

The Children's Museum of Maine exists to inspire discovery and imagination through exploration and play.
Three stories of fun and adventure in the heart of Portland at the Maine Children's Museum! Plan to spend a day here exploring all kinds of interactive exhibits.


Portland Head Light Museum, 1000 Shore Road, Cape Elizabeth, ME
http://www.portlandheadlight.com/home.html

Located at the oldest lighthouse in Maine (first lit on January 10, 1791), this museum is located in the former Keepers' Quarters. The award winning museum contains a number of lighthouse lenses and interpretative displays.
The Museum at Portland Head Light is open daily from Memorial Day to the Friday following Columbus Day. From mid April to Memorial Day and from Columbus Day to just before Christmas the Museum is open weekends only. Children under 6 are free.


Maine Historical Society Museum & Wadsworth-Longfellow House, 489 Congress Street, Portland, ME
http://www.mainehistory.org/about_overview.shtml

The Maine Historical Society Museum features changing exhibitions and programs spanning more than five centuries of Maine life. Drawing from the extensive collections of the Maine Historical Society, original exhibits feature art, artifacts, and documents that vividly bring Maine history to life.The Wadsworth–Longfellow House was Maine's first house museum open to the public. This childhood home of Henry Wadsworth Longfellow is the only single–family residence to survive downtown Congress Street's change from a mixed commercial and residential neighborhood on the edge of town to an urban business district, it is the oldest standing structure on the Portland peninsula.


Maine Narrow Guage Railway Museum, 58 Fore Street, Portland ME
http://www.mainenarrowgauge.org/about/

The Maine Narrow Gauge Railroad Company & Museum collects, preserves, displays, interprets, and operates historic railroad equipment from Maine's two-foot-gauge railways for the education and enjoyment of the public.
Museum visitors relive railroading as it once was and come to understand the railroads' importance to Maine's economic development. They have the unique pleasure of riding along the shore of Casco Bay in an antique rail car pulled by historic steam or diesel locomotives.


The Tate House Museum, 1270 Westbrook Street, Portland, ME
http://www.tatehouse.org/

With its clapboards still unpainted, Tate House is one of two residences in Maine with an unusual indented gambrel roof. Finished in 1755, this is the only pre-Revolutionary home in Greater Portland that is open to the public. The impressive period furnishings, beautiful grounds and herb gardens, and unique architecture of Tate House offer an insightful glimpse at the 18th century and life in Colonial Maine.


International Cryptozoology Museum, 661 Congress Street, Portland, ME
http://cryptozoologymuseum.com/

The International Cryptozoology Museum in Portland, Maine, includes exhibits about cryptids and also features displays about the finds of "living fossils" and of the classic animals of discovery — the successful cryptozoological stories (such as the coelacanth).
Some of the items on exhibit are actual hair samples of Abominable Snowmen, Bigfoot, Yowie, and Orang Pendek. A letter from the actor Jimmy Stewart is on display as he is linked to the Pangboche Yeti hand mystery.


Victoria Mansion, 109 Danforth Street, Portland, ME
http://www.victoriamansion.org/default.aspx

Also known as the Morse-Libby House, the Mansion was built between 1858 and 1860 as a summer home for Ruggles Sylvester Morse, a Maine native who made his fortune in New Orleans as the proprietor of luxury hotels.
Victoria mansion is a much-loved Portland landmark, but its significance extends far beyond Maine. Distinguished for its architecture and its extraordinary original interiors, it is among the most important historic homes of the nineteenth century anywhere in the nation.



More Great Museums in Maine
Willowbrook Village, Elm Street, Newfield, ME
http://www.willowbrookmuseum.org/index.html

Two historic houses and their barns, a reproduction schoolhouse and bandstand, and a millpond grace this restored country village. Plan to spend at least 3 hours once you arrive. Open seasonally.Horse-drawn sleighs and carriages, an 1849 Concord stagecoach, a 1894 carousel, gas engines and exhibits of various trades and tools – blacksmith, broom maker, canoe builder, cooper, cobbler, harness maker, printer, wheelwright, woodworker and more. Special events and activities throughout the summer and fall.


Maine Maritime Museum, 243 Washington Street, Bath, ME
http://www.bathmaine.com/
Located on the banks of the Kennebec River in Bath, The City of Ships, Maine Maritime Museum's 20-acre campus provides activities and attractions that will delight the entire family. Because there are so many things to see and do, visitors are encouraged to plan on spending a minimum of 4 hours at the museum during the summer season (Memorial Day to Columbus Day) and at least 2 hours during the rest of the year.


Maine Lighthouse Museum, One Park Drive, Rockland, ME
http://www.mainelighthousemuseum.com/
The Maine Lighthouse Museum is the proud home of the largest collection of Fresnel lighthouse lenses and the most important landmark collection of lighthouse artifacts and Coast Guard memorabilia in the United States.



Return from Museums in Maine to Inside York Maine Vacations Home Page