The Best Beaches in Maine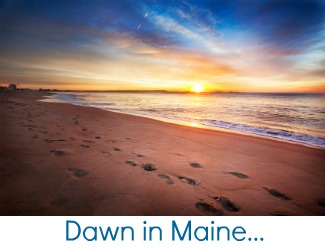 Ah, beaches in Maine.
The seagulls, the rocks for climbing, that cool sand under your feet, and those "refreshing" ocean temperatures!
Up and down our long coast and among our islands, you'll find rocky Maine beaches, great surfing beaches, gorgeous Maine beaches with miles of sand and loads of people, and open ocean vistas that are practically deserted.
Some of the best amusement parks in Maine are located conveniently close to these beaches, so family entertainment or pristine privacy...the choice is all yours.
I'm still not sure about where you can do some ocean skinny dipping, though, probably because there's not a lot of call for nudity here -- our summer is a brief thing, sort of like seeing a shooting star flash across the sky. The rest of the time you'd be shivering in your birthday suit.


The South Coast
Maine's south coast is well known to have some of the best of the sand beaches, and what's a summer vacation without some relaxing on the sand? It's very hard to spend hours building a sand castle with the kids without it...
So bring a boogie board, a great book and beach toys for the kids -- it's about all you need to pack for the perfect family vacation.
Find The Perfect South Coast Maine Vacation Rental