Portsmouth New Hampshire





So - Portsmouth New Hampshire.
You're staying in York Maine and wondering if you should cruise on over across the river and spend a day exploring Portsmouth, New Hampshire?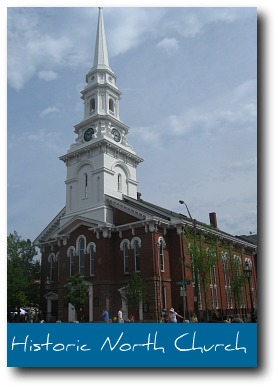 As you went over that big bridge spanning New Hampshire and Maine, did you wonder what else you could see down there besides the historic Portsmouth Naval Shipyard?
Lemme fill you in: A 15 minute drive from York, Portsmouth New Hampshire is one of coolest, funnest small cities in New England, or possibly anywhere.
Almost embarrassingly rich in history, the arts, events, and boasting some of the most eclectic restaurants and shops in the Seacoast area, Portsmouth sits right at the mouth of the Piscataqua (Pis-CAT-a-kwa) river; the border that divides New Hampshire and Maine.
New Hampshire has the smallest seacoast in America, but this deep water working harbor welcomes huge cargo ships and pleasure boats from all over the world, while visitors enjoy cruises out to the legendary Isles of Shoals or a harbor cruise on a tugboat.
You could even get married by the ship's captain on the Thomas Laighton, like my sister! Just a suggestion...
Horse drawn carriage tours, trolley tours, guided and self-guided walking tours - there's no end to the ways to drink in the variety that is Portsmouth.
Yes, Portsmouth New Hampshire is one of my all-time favorite places to be, and not just because they have a great dog park at the Mill Pond for my beloved pooch.
Look at what others have to say about the city of Portsmouth, and I'll bet they don't even know about the dog park!


National Geographic Traveler's Historic Places - Ranked #28 in the world and #6 in the U.S.
Outside magazine - Ranked #4 of the "Top 20 Towns in America"
Chosen as one of the 2008 "Dozen Distinctive Destinations" by the National Trust for Historic Preservation
.
Portsmouth NH History
When you're walking around downtown Portsmouth, you can't help but be surrounded by New England history. It's everywhere. After all, the city will be celebrating its 400th birthday in 2023...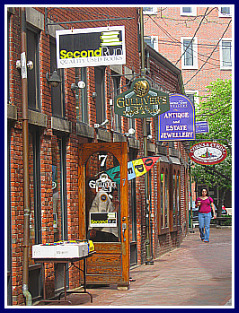 For me, almost every time I cross the bridge from Maine into New Hampshire, I think of one of my ancestors, who as a young man headed by ship down the Piscataqua river and out to the Atlantic, bound for the siege of Louisburg in 1745.
Sure, there's a lot about Portsmouth he wouldn't recognize today, but there's a lot that he would!
Downtown, there are homes built in the 1600's and early 1700's, and some of the churches have been there 200 years or more. On narrow streets of brick, you'll walk past shops and restaurants where prostitutes once called out to sailors from the upper windows during Portsmouths' down-and-out days.
And nowhere was more down-and-out in Portsmouth New Hampshire than Puddle Dock. The "Puddle" was a stinking muddy basin by the river filled with rot and refuse, and lined with ancient dilapidated houses and businesses.
But beginning in the early 1900's, Puddle Dock was slowly filled in as the wise residents of Portsmouth took steps to save their history by creating in its place beautiful "Strawbery Banke", a 9 acre living history museum, and Prescott Park.
If you ever want to know where to just relax outside in Portsmouth, go to Prescott Park. Festivals, outdoor theatrical events (check our Event Calendar), All America Select trial gardens, historical buildings, all if it is right there against a backdrop of ships traveling up and down the river.
Whether you're taking in a show at The Music Hall or the Seacoast Repertory Theater, browsing unique shops, taking a tugboat tour, people watching in Market Square, or being very pleasantly surprised by the sheer number and variety of eclectic restaurants, Portsmouth New Hampshire is an absolute delight.



Return From Portsmouth New Hampshire to Inside York Maine Vacations Home Page

Become An Inside York Maine Vacations Fan on Facebook - News, Tips & More!