Fall Foliage in New England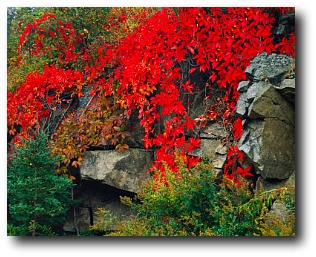 Fall foliage in New England is one of the best things about living here -- a splendid, arboreal "au revoir" until next year.
Towns like York have it all in the fall.
Here in coastal Maine things start to slow down in September after the children return to school.
Tourism changes from mostly families to couples here for the Maine fall foliage, the gorgeous weather, one of the best corn mazes in Maine, uncrowded beaches, ocean boating under the bluest of skies, country fairs (see our Event Calendar), fabulous Maine restaurants with no lines, and the Ogunquit Playhouse, still going strong into October with "Broadway at the Beach".
Want even more to do? How about:
There's no need to go anywhere else to capture the best of fall foliage in New England. It's all right here.
Shouldn't you be here too?
Autumn Leaves - How They Happen and When To See Them
As a harbinger of cold and winter hibernation, fall foliage is both beautiful and bittersweet.
With more tree species than Western Europe and other parts of the U.S., New England fall foliage is world-famous as a cornucopia of different colors and patterns.
But did you know that the glorious fall foliage in New England is always there, even in the summer?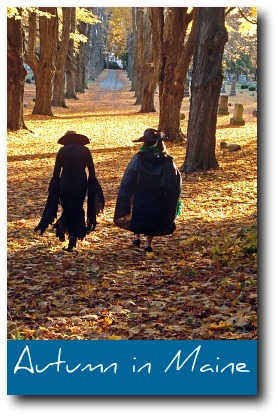 It's just like stars -- they're always there in the sky; but they can't be seen during the day.
Just as the brightness of the sun masks the stars, the green of chlorophyll in leaves masks all the other colors during the summer.
But when the bright cool days and chilly nights of autumn commence, photosynthesis and other chemical processes in the leaf begin to slow, allowing the brilliant reds, yellows, oranges and purples underneath to show through.
The first glimpses of Maine fall foliage begin with the very tips of the swamp maples. Able to thrive in low-lying wet areas, the swamp maples will begin to redden, just a bit, in mid-August.
A bit early if you ask me, but it's tough to argue with a swamp maple.
The opening act for fall foliage in New England is really late September, with October as the headliner.
One of the most romantic getaways in Maine is when the fall foliage in New England is on full display. Check the New England foliage map below for peak foliage dates throughout the region.


New England Foliage Map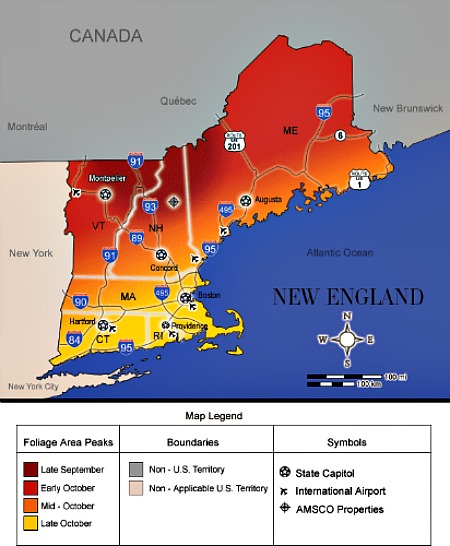 Thoughts on New England Fall Foliage Tours
New England fall foliage tours are either guided, with the biggest bus tours departing out of
Boston Massachusetts
, or a self-guided driving or cycling tour of the region.
Bus tours have the advantage of taking care of everything for you -- no need to decide where to stay, when to stop, or where to go. However, the amount of time you spend at each stop is going be limited. The bus might be leaving just as you'd like to be lingering!
Yet a bus tour of fall foliage in New England can be the ideal solution for an individual with limited mobility.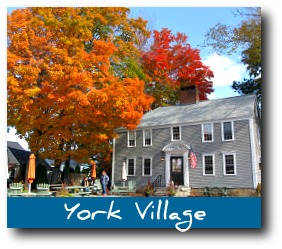 A self-guided driving tour of fall foliage in New England is wonderful, especially if exploring out-of-the-way small towns is something you love to do. Disadvantages? A lot of time spent in the car, and a lot of money spent on gas.
There's another type of New England fall foliage tour -- something I like to call the "pack your bag and stay" tour.
That's when you pack your bag and head for a beautiful little Maine town and stay. After all, sometimes the most beautiful leaves aren't up on the branches, they're down at your feet. It's awfully hard to see the ones at your feet when you're whooshing by at 40 m.p.h.
Thinking about packing your bag and staying for the Maine fall foliage? Here's some help on deciding where to stay: