York's Wild Kingdom
A Maine Zoo For You!

A famous Maine zoo? Hard to think of any right off the top of your head, isn't it?
In York, we've got the largest zoo and amusement park in Maine. Though it can't compare to places like the San Diego Zoo, it's got a lot of interesting and exotic animals. My kids still love going here at least once a year.
This is by no means an exhaustive list of all the zoo's animal exhibits, but...
...besides Rewa, the famous white bengal tiger, you'll find lions, ostriches, zebra, wildebeest, antelopes and many different kinds of primates representing the animals of Africa.
This Maine zoo even has an Australia Collection: seven different species from Down Under!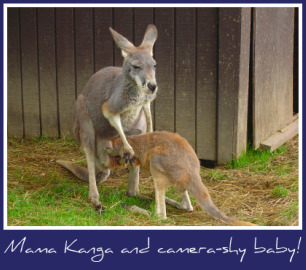 For domestic animals, there are black bears, miniature pigs, ducks, alligators, prairie dogs and many more.
And there are a lot of ways to experience the animals in this Maine zoo.
You can ride an elephant, or take a picture of the kids on a pony ride.
There are deer in a large enclosure, and zoo visitors can walk right into the enclosure and feed and pat them.
A word to the wise, though – those deer can be a little headstrong when they're looking for a treat! Another petting area is filled with adult goats and their kids.
One of the nicer recent additions to York's Wild Kingdom is the butterfly exhibit: a beautiful airy enclosure housing many species of butterflies and birds.
Parking for York's Wild Kingdom
Free zoo parking by using the Route 1 zoo entrance
Metered parking by using the amusement park entrance at York Beach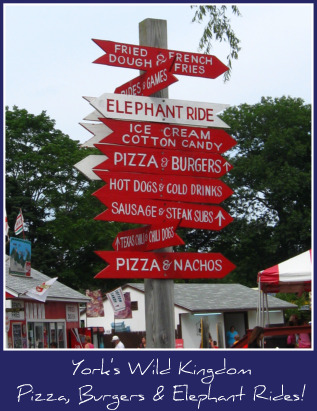 The Amusement Park
One of the nice things about this Maine zoo is that when you walk out of the zoo, you're in an amusement park.
The amusement park has batting cages, a Scrambler, a Ferris Wheel, Roundup, Bumper Cars, Go-Karts and more for the older kids, but they really excel in rides for young children.
Another great thing about the amusement park is that it doesn't cost you a dime to stroll in and take a look around. You can go to the beach all day, then take an evening stroll through the amusement park to preview it for the next day's adventure!


INSIDER TIP: If you are traveling with children, consider buying the BreatheNH Fun Pass . This pass, with the proceeds going to New Hampshire anti-smoking efforts and other lung health issues, generally allows a child free admission to a variety of York attractions with a paying adult. Other nearby and not-so-nearby New England tourist activities are also included. We've bought one for each child every year and it always pays for itself many times over.
If you are traveling with 2 children ages 4-10, each child will get a free zoo/amusement park package with a paying adult. That'll save you $29 right there!
>


Become An Inside York Maine Vacations Fan On Facebook - News, Tips & More!

Return From Maine Zoo to Maine Tourist Attractions

Return To Inside York Maine Vacations Home Page