The Maine Lobster Season
IS there a Maine lobster season? What's the real deal on soft-shell vs. hard-shell lobsters? Here's the inside story from an interview with a York, Maine lobsterman who's experienced nearly 40 lobster seasons in Maine.
One February day, Bob Donnell and I sat in his kitchen and talked about the Maine lobster season as he lives it.
And yes, it had to be February, 'cause at any other time in the season, he'd be too busy pulling lobster traps to be sitting down in his kitchen with me!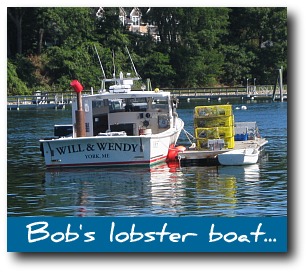 Today some of his traps are out in the backyard, mounded over with snow, and Bob's boat, the Will & Wendy, is tied to her winter dock on the river in York Harbor.
It's definitely the slow time in the Maine lobster season.
Even Bob's wife Martha, a professional landscaper who single-handedly keeps the grounds of the reknowned York Harbor Inn looking glorious, is home for the winter until her own season ramps up again.
Bob has never done anything else for a living except Maine lobster fishing. There was brief stint doing construction as a very young man, but it didn't last long.
He pulled his first lobster trap out of the ocean at the age of 11, and never looked back.
Here's the result of our occasionally silly conversation about the Maine lobster season and Maine lobster fishing in general.
---


ME: Okay, Bob, what exactly is the Maine lobster season? Is there ever a time that lobsters are out of season like tomatoes are out of season?
BOB: Um, there are very few ways that lobsters and tomatoes are alike. Maine lobsters are caught year round, but there's a big difference in total pounds caught in the off-season of January to May and what I catch from late July to January.
ME: Why the difference?
BOB: Lobster activity is dependent on water temperature. When the ocean temperature is around 40F or less, lobsters are pretty much dormant. From January to May, I might take the boat out only 6 to 8 times a month. Between fuel, bait and a hired hand, it costs about $400 a day to go out, so you want to make sure that it's worth it.
Any lobsters we catch at that time might sit out there a week to 10 days. But they're filter feeders, so they eat bait, whatever floats through the traps, and any fish that swim in.
ME: At what point in the Maine lobster season do things start to heat up, so to speak?
BOB: Well, our water temperature is still pretty cold through June. That's when lobsters start to head for the rocks and the mud to molt their shells. When they shed those shells, they can be as soft as Jell-O for awhile, so they've got to take cover while they're defenseless. We don't catch as many while they're molting, but the ones that we do haul up are called "soft shells".
ME: And what's the story on soft shells? Do they really taste better?
BOB: I think so. I think they're sweeter than the hard shells. But what we call "firm shells" are great, too. That's somewhere in between.
ME: And of course demand for Maine lobster starts to go up in the summer season, with the arrival of visitors from away?
BOB: Yup. In the winter I mainly sell to lobster processing companies in Portland, but in the summer it's more local. I take some right off the boat to my niece Lindsay who sells them at her stand on Sewall's Bridge here in York. Can't get any more local than that.
ME: Other than heading for the rocks to molt, do lobsters migrate throughout the season?
BOB: When the water starts to warm in July, the lobsters start to move out to deeper water. That's the point in the season that I move my traps out past Boon Island and towards the Isles of Shoals. I move the boat, too, because in the summer it's easier to row out to the boat and I don't have to pay to tie up at the dock.
ME: How far out do you go?
BOB: Eight or nine miles, tops. You need a federal permit to go out farther than 3 miles...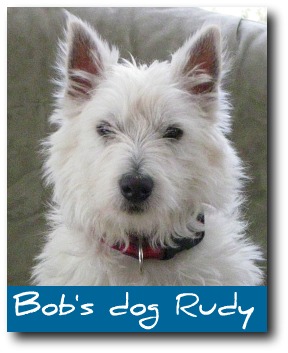 ME: What's your all-time favorite point in the Maine lobster season?
BOB: September and October. The weather is beautiful, the sea is warm, and the catch is really strong.
ME: Would you like to see your kids make their living lobster fishing in Maine?
BOB: (smiles) I love the life, but let's just say that I encourage them to do well in school...all the costs associated with lobstering have gone up, fuel, health insurance, bait, etc. The only thing that hasn't gone up is the price of lobster - right now it's only about 20 cents more than it was ten years ago.
Almost the entire Maine lobstering fleet is still made up of one man or woman and one boat. Maybe a hired hand or two. It gets hard to...stay afloat.
ME: Does Rudy go out on the boat with you?
BOB: Too long a day for a dog. Besides, the seagulls might pick him off.





Return From Maine Lobster Season to Maine Lobsters page

Return to Inside York Maine Vacations Home Page