Best Lobster Restaurants in Southern Maine




Some of the best lobster restaurants in Maine are right here in the southern seacoast region.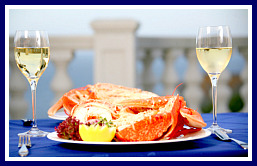 You can't throw a rock around here without hitting a place that either catches lobster, sells lobster or serves lobster.
For the best lobster that's pure and simple, you can always have it boiled or steamed with drawn butter.
For a dish a little less simple, you could try something like the Yorkshire Lobster Supreme at the York Harbor Inn (Maine lobsters filled with native shrimp, crabmeat and tender sea scallops, topped with their famous thermidor sauce)or....
wait for it....
the lobster truffle purses at Frankie & Johnny's on Route 1 in Cape Neddick.
Lobster truffle purses! I like saying "lobster truffle purses", and I love eating them! They're delicate little wontons stuffed with fresh Maine lobster, mascarpone cheese, and truffled butter, and baked until crisp. Yum!
For the best lobster breakfast, we've got lobster Benedict, lobster omelets, or lobster pizza for brunch.
Those are just a few of the ways you'll find us cooking up lobster here in York. You'll find them, in one delicious form or another, on the menu of almost all our southern Maine restaurants.
Below is a list of some of the best lobster dining establishments in Maine: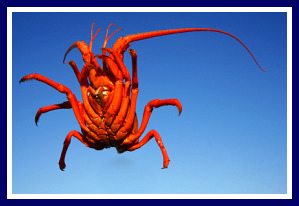 The Barn Seafood and Grill
- Full service or eat outdoors at "Lobster in the Rough" (see below). Year round. 1000 U.S. Route 1, York, ME 03909.
Barnacle Billy's - Dining room and outdoor seating. Overlooking Perkins Cove. Seasonal. 50-70 Perkins Cove Road, Ogunquit, ME 03907.
Cape Neddick Lobster Pound - Full service dining room. Ocean view. Outdoor seating. Year round (weekends only in the off season). 60 Shore Road, Cape Neddick, ME 03902.
Chauncey Creek Lobster Pier - Eat inside or on picnic tables on the deck. On Chauncey Creek. Seasonal. 16 Chauncey Creek Road, Kittery Point, ME 03905.
Foster's Downeast Clambake - Full service. Indoor picnic table seating. Seasonal. 1 Axholme Road, York, ME 03909.
Fox's Lobster House - Full service and take out window. Direct oceanfront. The only restaurant at Nubble lighthouse. Seasonal. 8 Sohier Park Road, York Beach, ME 03910.
Lobster Cove - Open 7 days, year round. Outdoor seating, direct oceanfront. 756 York Street (Coastal Route 1A), York, ME 03909.
Lobster in the Rough - Located behind the Lobster Barn Seafood & Grill. (outdoors, playground, bocce, horsehoes, live music). Same address and phone as above.
Ogunquit Lobster Pound - Dining room or eat outside. Seasonal. 504 Main Street (U.S. Route 1), Ogunquit, ME 03907.
Warren's Lobster House - Year round. 11 Water Street, Kittery, ME 03904.
York Lobster & Seafood. Limited seating inside fish market, take out window. Year round. 855 U.S. Route 1, York, ME 03909.



Return From Best Lobster Restaurants to Maine Restaurants

Return To Inside York Maine Vacations Home Page

Become An Inside York Maine Vacations Fan on Facebook - News, Tips & More!